THE BOLSHOI LIVE AUDIO DOWNLOADS

The Bolshoi Live at Croydon's Underground - 09/19/1986

In mid 1986 The Bolshoi was on tour to support "Friends" and the single "Books on the Bonfire." One stop was at Croydon's Underground club.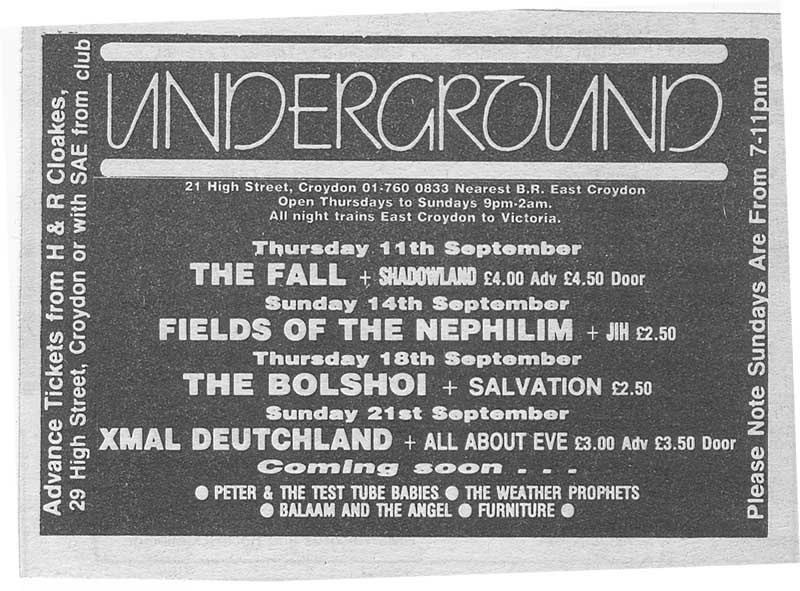 This is a fair audience recording. Among the gems are a cover of the Johnny Kidd & the Pirates '60s track "Shakin' All Over" (to close out the show) and an extended end to "A Way" sort of acts as a break for a second encore. Because of starts and stops on the tape, I am guessing about the encores.
Thanks to Per-Ake for providing this show!
The song list follows. Click on the file size next to a song title to download that individual song. All files are MP3 format.
Set List
1. Romeo in Clover - 4:51 (6.8 MB, 192 kbps)
2. Fly - 4:15 (5.8 MB, 192 kbps)
3. Modern Man - 3:49 (7.4 MB, 192 kbps)
4. Happy Boy - 3:51 (7.8 MB, 192 kbps)
5. Books on the Bonfire - 5:26 (7.2 MB, 192 kbps)
6. Boss - 5:39 (6.8 MB, 192 kbps)
7. Someone's Daughter - 7:01 (5.2 MB, 192 kbps)
8. Pardon Me - 5:43 (6.6 MB, 192 kbps)
9. Looking for a Life to Lose - 6:21 (5.5 MB, 192 kbps)
Encore
10. A Way - 4:27 (9.0 MB, 192 kbps)
Second Encore
11. Fat and Jealous - 3:37 (6.0 MB, 192 kbps)
12. Shakin' All Over - 3:36 (9.9 MB, 192 kbps)
Full Show with no edits - 1:00:49 (85.5 MB, 192 kbps)