THE BOLSHOI LIVE AUDIO DOWNLOADS

The Bolshoi Live at The Reading Festival - 8/30/1987

In 1987 The Bolshoi took to the stage at the legendary Reading Festival for the second year in a row. The 25th anniversary of the festival had a few more goth acts, following in the steps of 1986, with The Mission headling Friday and supporting acts including Fields of the Nephlim and All About Eve. The Bolshoi were given a nice supporting slot on Sunday, in advance of Zodiac Mindwarp, The Stranglers and Alice Cooper. The choice of Cooper as the headliner was a sign of the times, as a lot of metal bands also took the stage, including Lizzie Borden(!) earlier on Sunday.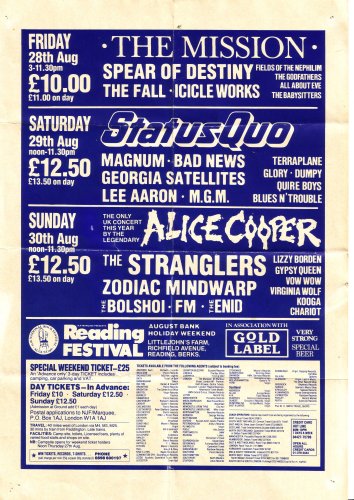 It seems the audience is none too excited about The Bolshoi, and Trevor's back and forth with them during the set reflects that. But it's still a nice set -- a little bit longer than the previous year -- and this time no surprises.

The overall sound quality of this show is fair due to it being an audience recording. The sound favors the right channel, but there is music on both. Sometimes there are some weird pops in a few spots. I assume it's on the source recording, but it doesn't take away from the show. Thanks to Warren Swain for making this show available!

The song list follows. Click on the file size next to a song title to download that individual song. All files are MP3 format.

Set List

1. Intro/Auntie Jean - 5:58 (8.4 MB, 192 kbps)
2. Fly - 4:07 (5.8 MB, 192 kbps)
3. T.V. Man - 5:04 (7.1 MB, 192 kbps)
4. Romeo in Clover - 5:59 (8.4 MB, 192 kbps)
5. She Don't Know - 4:42 (6.6 MB, 192 kbps)
6. Crack in Smile - 5:53 (8.3 MB, 192 kbps)
7. Please - 3:25 (4.8 MB, 192 kbps)
8. Looking For a Life to Lose - 4:10 (5.9 MB, 192 kbps)
9. A Way - 6:02 (8.5 MB, 192 kbps)

- Full Show (minor edits) - 46:04 (65 MB, 192 kbps)