THE BOLSHOI LIVE AUDIO DOWNLOADS

The Bolshoi Live at The London Astoria - 12/11/1987

One of the last concerts by The Bolshoi was this great Christmas-time show at the London Astoria.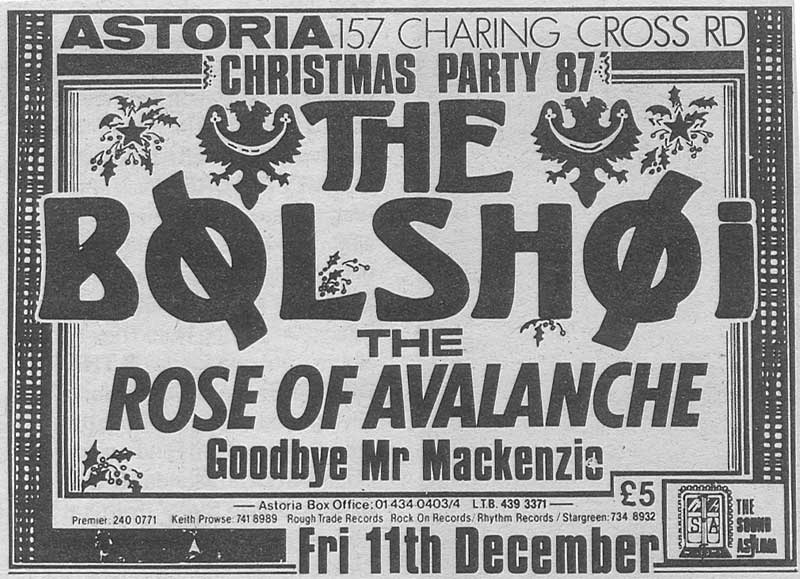 This is a good quality audience recording apparently featuring the entire show. There are 13 tracks in all, including the "new" song "Country Life." It is really one of the most interesting live shows, containing not only the hits (though not including "Books on the Bonfire"), but also a couple of rarities in "Amsterdam" and "Foxes."
Standout performances include an 11-minute performance of "A Way" that features a prolonged holiday-themed opening, the driving "Country Life" and "Happy Boy," which is always awesome live.
There may be two encores, since there is a gap between "Sunday Morning" and "Crack in Smile." There is definitely an encore after "Please," however, so it's the only one listed. Anyone who knows better, please let me know...
The song list follows. Click on the file size next to a song title to download that individual song. All files are MP3 format.
Set List
1. Amsterdam - 3:29 (4.8 MB, 192 kbps)
2. Auntie Jean - 4:15 (5.9 MB, 192 kbps)
3. Someone's Daughter - 3:49 (5.3 MB, 192 kbps)
4. Foxes - 3:51 (5.3 MB, 192 kbps)
5. Happy Boy - 5:26 (7.5 MB, 192 kbps)
6. Lindy's Party - 5:39 (7.8 MB, 192 kbps)
7. Country Life - 7:01 (9.7 MB, 192 kbps)
8. Sunday Morning - 5:43 (7.9 MB, 192 kbps)
9. Crack in Smile - 6:21 (8.7 MB, 192 kbps)
10. Looking for a Life to Lose - 4:27 (6.1 MB, 192 kbps)
11. Please - 3:37 (5.0 MB, 192 kbps)
Encore
12. Barrowlands - 3:36 (5.0 MB, 192 kbps)
13. A Way - 11:39 (16.0 MB, 192 kbps)
Full Show with no edits - 1:05:41 (100 MB, 192 kbps)